About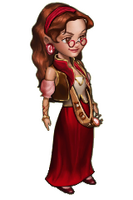 The Seamstress is a Tier-3 worker, who specializes in Armor Crafting, Arts & Crafts and Textile Working.
She is available after raising the Market to level 29 and can be hired for a cost of 250k

. To get to Market level 29, Town Hall has to be at least level 31.
Experience Chart
[edit] Experience Chart: Tier-3

| Worker Level | Experience Needed | Skills Points |
| --- | --- | --- |
| Level 1 | N/A | 10 |
| Level 2 | 30 | 20 |
| Level 3 | 90 | 30 |
| Level 4 | 195 | 40 |
| Level 5 | 375 | 50 |
| Level 6 | 675 | 60 |
| Level 7 | 1,125 | 70 |
| Level 8 | 1,800 | 80 |
| Level 9 | 2,775 | 90 |
| Level 10 | 4,125 | 100 |
| Level 11 | 7,875 | 110 |
| Level 12 | 11,850 | 120 |
| Level 13 | 17,250 | 130 |
| Level 14 | 25,500 | 140 |
| Level 15 | 36,750 | 150 |
| Level 16 | 52,500 | 160 |
| Level 17 | 75,000 | 170 |
| Level 18 | 106,500 | 180 |
| Level 19 | 150,000 | 190 |
| Level 20 | 210,000 | 200 |
| Level 21 | 360,000 | 210 |
| Level 22 | 502,500 | 220 |
| Level 23 | 705,000 | 230 |
| Level 24 | 990,000 | 240 |
| Level 25 | 1,380,000 | 250 |
| Level 26 | 1,950,000 | 260 |
| Level 27 | 2,700,000 | 270 |
| Level 28 | 3,750,000 | 280 |
| Level 29 | 5,175,000 | 290 |
| Level 30 | 7,125,000 | 300 |
| Level 31 | 13,650,000 | 310 |
| Level 32 | 18,750,000 | 320 |
| Level 33 | 27,000,000 | 330 |
| Level 34 | 37,500,000 | 340 |
| Level 35 | 51,750,000 | 350 |
| Level 36 | 72,750,000 | 360 |
| Level 37 | 101,250,000 | 370 |
| Level 38 | 141,750,000 | 380 |
| Level 39 | 195,000,000 | 390 |
| Level 40 | 277,500,000 | 400 |
| Level 41 | 532,500,000 | 410 |
| Level 42 | 675,000,000 | 420 |
| Level 43 | 847,500,000 | 430 |
| Level 44 | 1,072,500,000 | 440 |
| Level 45 | 1,342,500,000 | 450 |
| Level 46 | 1,695,000,000 | 460 |
| Level 47 | 2,130,000,000 | 470 |
| Level 48 | 2,685,000,000 | 480 |
| Level 49 | 3,375,000,000 | 490 |
| Level 50 | 4,252,500,000 | 500 |
---