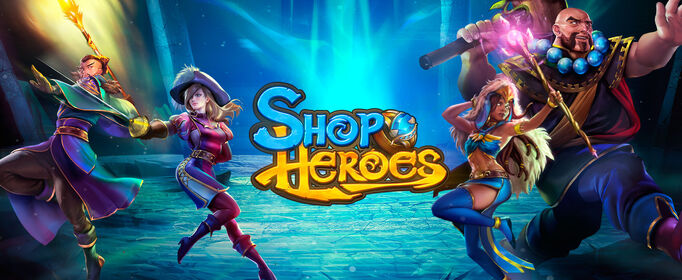 Other Language:English|German |Chinese
Shop Heroes is a cross platform free-to-play game with optional micro-transactions, developed by Cloudcade, Inc.
The game was soft-launched on May 26th, 2015 exclusively on Facebook during the game's beta period. The game was later released in beta on Google Play in July 2015 and closed beta in August 2015 for iOS players (through TestFlight).
The game officially launched in September 2015 on Facebook, iTunes and Google Play and later launching on Amazon , on Kongregate in October 2015 and on Steam in August 2016.
Shop Heroes is a fantasy shop-management game where players craft and sell equipment to visiting adventurers, send these adventurers on various quests, and collaboratively build a city with friends to unlock new content.
Game News
Be sure to check the 2017 Road Map for planned changes. Vote on changes at the strawpoll here
Hi ShopKeepers!
Here are the patchnotes for February!
Seasonal Packages for new players
1. Valentine's Day Package 2016 ($14.99 USD, Time Limited: February 14th - February 28th)
12,500 Gold
750 Gems
4 Avatar Items (Bow+ Flower + Wings + Scarf)
Line of 4 Blueprints

Charming Scroll (Level 14 Spell)
Heart Seeker (Level 28 Projectile)
Lovestruck (Level 38 Bow)
Affection (Level 45 Staff, Energetic 2 at Mythical)

Exclusive Lovers Carpet Decoration

2. Care Package ($14.99 USD, Time Limited: February 14th - February 28th)

12,500 Gold
750 Gems
3 Avatar Items (Face+ Cape + Hat)
Line of 3 Blueprints

Heart Helmet (Level 15 Hat)
Heart Shooter (Level 31 Gun)
Heart Ring (Level 48 Ring, Revive 2 at Mythical)

Exclusive Flying Hearts Decoration (-1% Bonus Craft Time)

3. Love Package ($14.99 USD, Time Limited: February 14th - February 28th)

12,500 Gold
750 Gems
2 Floors/Walls Patterns
Line of 3 Blueprints

Heart Robe (Level 18 Robe)
Heart Pendant (Level 15 Pendant)
Heartstopper Axe (Level 47 Axe, Energetic 2 at Mythical)

Exclusive Pixel Heart Decoration (-1% Bonus Quest Time)

Seasonal Packages for players who bought package last year

Valentine's Day Package ($24.99 USD, Time Limited: February 14th - February 28th)

1500 Gems
3 Avatar Items (Face+ Cape + Hat)
2 Floors/Walls Patterns
Line of 3 Blueprints

Heart Helmet (Level 15 Hat)
Heart Shooter (Level 31 Gun)
Heart Ring (Level 48 Ring, Revive 2 at Mythical)

Line of 3 Blueprints

Heart Robe (Level 18 Robe)
Heart Pendant (Level 15 Pendant)
Heartstopper Axe (Level 47 Axe, Energetic 2 at Mythical)

Exclusive Flying Hearts Decoration (-1% Bonus Craft Time)
Exclusive Pixel Heart Decoration (-1% Bonus Quest Time)

Balancing

Added Guns as a second weapon type for Lorelei
Rebalanced costs for slots throughout the game (gold, gems and upgraded values)
Added a new tooltip on the loading screen
Added a new city notification when a neighbor fills another player's city requests

Bugs

Fixed an issue where Endless Raid would appear as level 26
Fixed an issue where default language was not detected properly for certain languages
Wiki-RecentChanges feed
External Links
Official pages:

| Website | Forum | Facebook |
| --- | --- | --- |
| | | |
Play on:
Web
Mobile
Steam
Extra's:
Activity feed